Road Tripping across the USA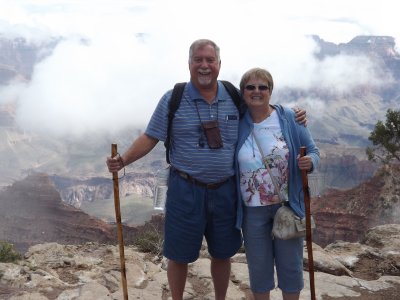 Allons! The road is before us!
Camerado, I give you my hand!
I give you my love more precious than money,
I give you myself before preaching or law;
Will you give me yourself? will you come travel with me?
Shall we stick by each other as long as we live?
I love Walt Whitman poem and this is from one of my favorite poems. I think it is fitting for many of us, retired or at least changing from our old way of life to a more relaxed but by no means less active lifestyle.
Nancy and I are 74+, active and pretty darn healthy, considering our past issues. We discovered Road Tripping about 10 years ago and have loved traveling and hiking our way across the USA. We weren't always this active or even capable of being this active. When I was diagnosed with cancer and Nancy with heart disease, we thought life was over for the most part. But after doing some research, reading, and watching many documentaries we discovered that life was NOT ending but Just the Beginning!
Together we conquered our problems. Overweight, unhealthy, cancer and heart disease plagued us but we overcame it ALL. How? We have several web sites that go into details and you can explore them in that box a bit more down this page.
This site (I have many) is designed to grab your interest. Targeted at other Seniors or sons, daughters and grandchildren of seniors, we want to tell you that at 'retirement' life is truly Just Beginning!
For most of us, no more 9 to 5, no more rushing to catch that flight and grabbing junk food when we can spare a few minutes. No, we can slow things down a bit. Learn how to relax, calm ourselves and Explore our wonderful Country and Planet.
Late in 2018, we moved to a 'retirement community', called
Traditions
, in Central Florida. Selling our larger home in Orlando, with pool and all that yardwork, and opting for a new place we can 'lock & leave'; one where all the maintenance was done for us, was secure and had terrific amenities. It was also nice that it was a 'smart home' with all the latest techno-gadgets I could play with!
We have been trying to explain just how we managed to overcome our problems with
Lifestylediet
to anyone who would listen! We want to inform, educate and explain how simple lifestylediet changes can help YOU maintain or regain your health. We should all be able to enjoy this 'retirement' time unburdened with chronic disease, drugs (horrible side effects), and treatments. Learn how to shed it all and live an Unburdened Lifestyle and restore your energy levels to your level when you were 35; no matter what your current chronological age!
On the other pages of this site, we will try to explain and direct you to just how we did it. How YOU can do it too. We will also tell you about some of our Road Trips. We have explored more than 100 National and State Parks.
Skip & Nancy have traveled extensively across the USA on Road Trips and Hiked and visited over 120 National Parks. As a Nutritional Holistic Cancer Survivor, he understands how lifestylediet changes can impact the progression/reversal of disease. He has devoted much of his time to research and learning about how Whole Foods contribute to overall Health & Wellness. This background has provided him with an understanding how to write about a healthy and vital lifestyle to support the strenuous work demands of today's executive.




As he and his lovely wife, Nancy, embarked on a series of road trip adventures, he maintained detailed diary/logs of his trips. This book tells of their very first Road Trip across the USA.
So explore this site and some of our others. Enjoy and Call/Write us with Questions.
Visit our Other Polymath Group Sites:
Health, Wellness & Longevity Consulting
Your Health is your Wealth
Our Marketing Booklet Series